Eurico Guterres ho Nia Grupu Prontu Kontribui bá Konseitu Fraternidade Umana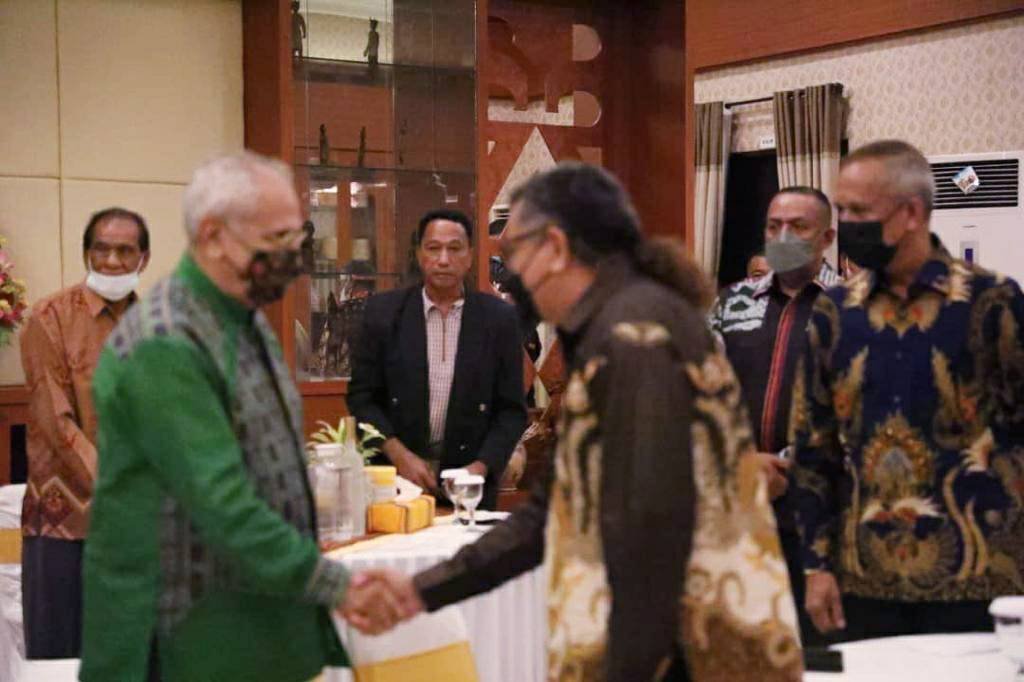 Hatutan.com, (27 Jullu 2022), Díli- Eis Komandante Aitarak pro-autonomia, Eurico Guterres hamutuk ho Joanico Belo no timoroan sira seluk pro-autonomia ne'ebé hamahan iha grupu Uni Timor Asu'ain (UNTAS),  deklara prontu kontribui bá konseitu Fraternidade Umana  atu oinsá mak asegura dame no pás  nu'udár maun-alin entre timoroan iha Timor Osidentál ho timoroan sira iha Timor-Leste.
Lee Mós : Dokumentu Fraternidade Umana Lori Horta Hasuru Lopes da Cruz ho Eurico Guterres
Estadu Timor-Leste adopta dokumentu Fraternidade Umana no Prezidente Repúblika (PR), José Ramos-Horta halo esforsu hotu atu hametin hikas fraternidade timoroan sira ne'ebé oras ne'e hela iha Timor Osidentál  no esforsu hirak ne'e hetan resposta pozitivu husi lider timoroan pro-autonomia hanesan Francisco Xavier Lopes da Cruz, Basílio Dias de Araújo,  Eurico Guterres, Joanico Belo no sira seluk tan.
Asesór bá Asuntu Fraternidade Umana, Martinho Germano da Silva Gusmão, Kuarta (27/07/2022), iha Palásiu Prezidensiál, Díli,  informa durante Prezidente Repúblika (PR), José Ramos-Horta ho nia delegasaun estadia iha Jakarta no Kupaun hasoru malu ho lider pro-autonomia Francisco Xavier Lopes da Cruz, Basílio Dias de Araújo, Eurico Guterres, Joanico Belo no sira seluk tan, hato'o sira-nia elojiu ho inisiativa husi Prezidente Repúblika José Ramos-Horta relasiona ho Fraternidade Umana.
Iha enkontru ho Prezidente Repúblika, José Ramos-Horta iha Governador NTT nia uma Estadu, Domingu kalan (24/07/2022), Eurico Guterres afirma, ida be uluk inimigu ho sira ne'e mak agora mai atu buka malu sai hanesan  maun-alin nafatin,  maibé ida be uluk hamutuk ho sira luta bá pro-autonomia  fila tiha mai  Timor-Leste hateten aat fali mak timoroan sira iha Timor Osidentál.
Joanico Belo no Eurico Guterres la kestiona dehan atu mai ka la mai Timor-Leste, ba sira laiha problema no problema mak oinsá bele ko'alia bá ema ne'ebá liafuan pro-otonomia no pro-merdeka ne'e tenke iha onestidade no sinseru katak sira be uluk pro-otonomia ne'e mai tiha Timor sira la ajuda fali pro-otonomia sira iha Timor Osidentál.
"Ita simu-malu hanesan maun-alin no agora sira ne'ebé pro-merdeka mak mai buka tuir fali atu haree malu hanesan maun-alin no ida ne'e buat ida ne'ebé exepsionál," Martinho Gusmão haktuir Eurico Guterres nia lia-fuan.
Ideia no fundamentasaun hanesan mós partilla husi Francisco  Xavier Lopes da Cruz no  Basílio Dias de Araújo bainhira hasoru malu ho PR José Ramos-Horta hodi dehan, buat ne'ebé liu husik bá liu ona, sala sira ne'ebé timoroan sira halo bá malu  husik hela bá hanesan istória moruk.
"Ita Timoroan ho timoran mak tenke halo di'ak bá malu. Laiha tan ema seluk atu mai halo di'ak bá ita sira timoroan, ne'e dunik, ami prontu kontribui fila fali atu oinsá ita la'o bá malu," Martinho Gusmão haktuir mensajen husi Francisco Xavier Lopes da Cruz.
"Konseitu Fraternidade Umana ne'e atu hateten katak ita ne'e mau-alin," Martinho Gusmão afirma tan.
Iha 1973 Prezidente Repúblika  José Ramos-Horta hakerek artigu ida ho títulu 'Maubere meu Irmão' no iha artigu ne'e rasik taka ho liafuan 'teu irmão' no iha lia-fuan Eu (ha'u) no Tu (o/ita) ne'e halo katak ita na'in-rua maun-alin no iha ne'e hatudu katak Ramos-Horta ema primeiru ne'ebé tau fini kona-bá Fraternidade Umana.
Martinho Gusmão hateten, iha 1974, Xanana Gusmão hakerek poema ida nia títulu 'Mauberiadas' no iha ne'ebá iha liafuan Irmandade no ne'e hatudu katak hanoin kona-bá Fraternidade umana moris tiha ona.
Iha tinan hanesan 1974,  Martinho Gusmão haktuir, Francisco Borja da Costa hakerek mós poema ida ho nia títulu 'É Natal' ne'ebé hateten Natal é seja para nós uma verdadeira Fraternidade no iha 1975, Nicolau Lobato hateten bebeik liafuan 'Somos Todos Irmão' no uainhira atu harii FRETILIN Nicolau Lobato uza liafuan 'Irmãos Timores' ne'e atu hatudu dehan katak hahú kedas husi 1973-1975 ne'e Timor hahú tiha ona ho Fraternidade Umana no sobrevivente hela lider karizmátiku Kay Rala Xanana Gusmão no presidente atuál José Ramos-Horta signifika konseitu Fraternidade ne'e Timor-Leste atu selebra tinan 50.
"Parte hotu iha Timor osidentál hanesan Uni Timor Asu'ain (UNTAS,) Eurico Guterres no Joanico Belo inklui Francisco Xavir Lopes da Cruz no parte igreja Katólika liu husi Dioseze Kupaun no Atambua sira hotu hanoin katak ida0ne'e mementu ida justu liu atu formula hikas Fraternidade Umana ne'ebé tinan 50 liubá moris ona hodi lalika ko'alia kona-bá pro-autonomia no pro-merdeka," Nia haktuir.
Asesór ne'e hatutan sira nia disponibilidade no espíritu bá Fraternidade Umana mak timoroan hotu iha uma fukun ketak-ketak ona, maibé uma lulik ida de'it katak iha politika  fahe malu, maibé iha Uma kreda no uma lulik timoroan labele fahe malu no ida ne'e hatudu konseitu ida brillante husi sira nia parte.
Buat ne'ebé sira dehan mak ema sira hanesan Xanana, Ramos-Horta, Falur, Lere, Alkatiri inklui ho lider rezisténsia sira seluk hakarak hadi'a relasaun ho Indonézia em espesiál ho maluk timoroan sira no sira iha Timor laran mak ko'alia barak no sira dehan buat ida ne'ebé  hanoin loos mak ema barak ne'ebé hateten sira pro-otonomia, milísia sira barak uluk hamutuk ho ami.
Aproximasaun ne'ebé agora Xanana no Ramos-Horta lansa ho Fraternidade Umana ne'e momentu di'ak liu ne'ebé Timor-Leste halo no keta haluha 2024-2025 Timor Leste selebra tinan 50 revolusaun da independénsia tamba ne'e presiza hadi'a naksalak sira ne'ebé akontese iha pasadu.
Timoroan sira iha Timor Osidentál sira haksolok tebe-tebes no prezidente Ramos-Horta nia vizita bá NTT halo sira orgullu no hakarak Xanana mós bá vizita sira no buat ida ne'ebé halo sira parte hotu estadu sivil no militar inklui igreja lokal iha NTT orgullu liután mak Timor-Leste aplika Fraternidade Umana.
Arsebispu bá Arkidioseze Kupaun, Mgr. Petrus Turang Pr, dehan iha evanjellu hateten 'Ita hotu Maun-alin' ne'e hatudu katak saida mak Prezidente José Ramos-Horta no Xanana Gusmão halo atu timoroan sira hotu simu malu nu'udár maun-alin  ho konseitu Fraternidade Umana ne'e nu'udár solusaun kapas liu.
Timoroan sira iha Timor Osidentál husi bá Ramos-Horta atu  lalika ko'alia repartisaun ka rekonsiliasaun tamba ne'e lori projetu boot demais, maibé ho de'it Fraternidade Umana natoon ona tamba sei iha fetosaa-umane ne'ebé kesi relasaun timoroan hotu nian.
"Mensajen husi timoroan sira iha Timor Osidentál bá maun-alin sira iha Timor-Leste liu husi Prezidente Repúblika, José Ramos-Horta maka hakarak atu povu Timor konsidera sira hanesan maun-alin atu uainhira sira mai Timor livre no sidadaun Timor sira bá Indonézia mos sira haree di'ak no tau matan hanesan maun-alin. Tamba iha dokumentu Fraternidade Umana hateten katak justisa tenke hatuur iha miserikordia nia laran,"  Martinho Gusmão haktuir.
Governadór NTT Timor illa ida no bandeira rua
Governadór Nusa Tenggara Timur, Viktor Bungtilu Laiskodat, orgullu ho esforsu Estadu Timor-Leste no lider rezisténsia hotu ne'ebé iha esforsu bá rekonsiliasaun nian liliu haklean no hametin hikas fraternidade timoroan hotu nian ne'ebé mai husi lisan, kultura no relijiaun ida ho bei'ala ida de'it.
Nia afirma ema timor iha kultura ne'ebé hanesan, kor hanesan maske iha bandeira ketak-ketak. "Timor ne'e illa ida, maibé bandeira rua ne'e dunik Timor é uma pátria duas bandeiras no konseitu ida ne'e mak ami koko atu timoroan sira nafatin iha unidade, amizade no iha fraternidade umana hanesan timoroan." Martinho Gusmão hateten.
Jornalista: Vito Salvadór
Reinu Unidu Kompromete Apoiu TL Nia Dezenvolvimentu Ekonomia, Saúde no Nutrisaun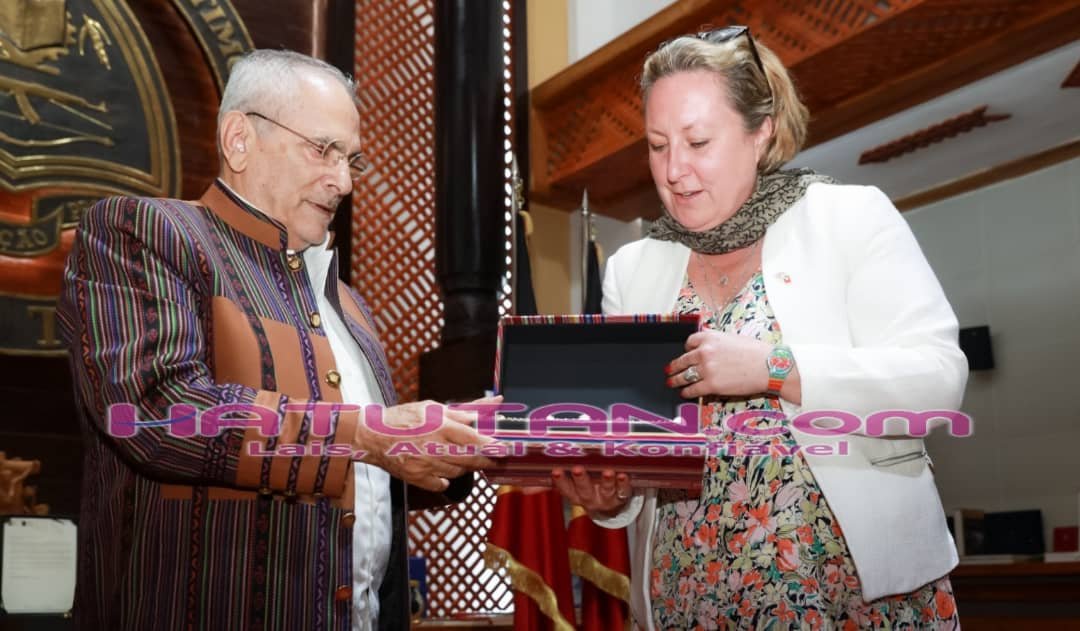 Hatutan.com, (29 Setembru 2023), Díli- Ministra de Estado para o Indo-Pacífico do Reino Unido, Anne-Marie Trevelyan, hateten Reinu Unidu iha kompromisu boot atu apoiu Timor-Leste iha dezenvolvimentu ekonomia, saúde no nutrisaun.
Xefe Suku-Aldeia Sei La Simu Osan Bainhira La Kontrola Komunidade Tesi Arbiru Kanu Bee-Moos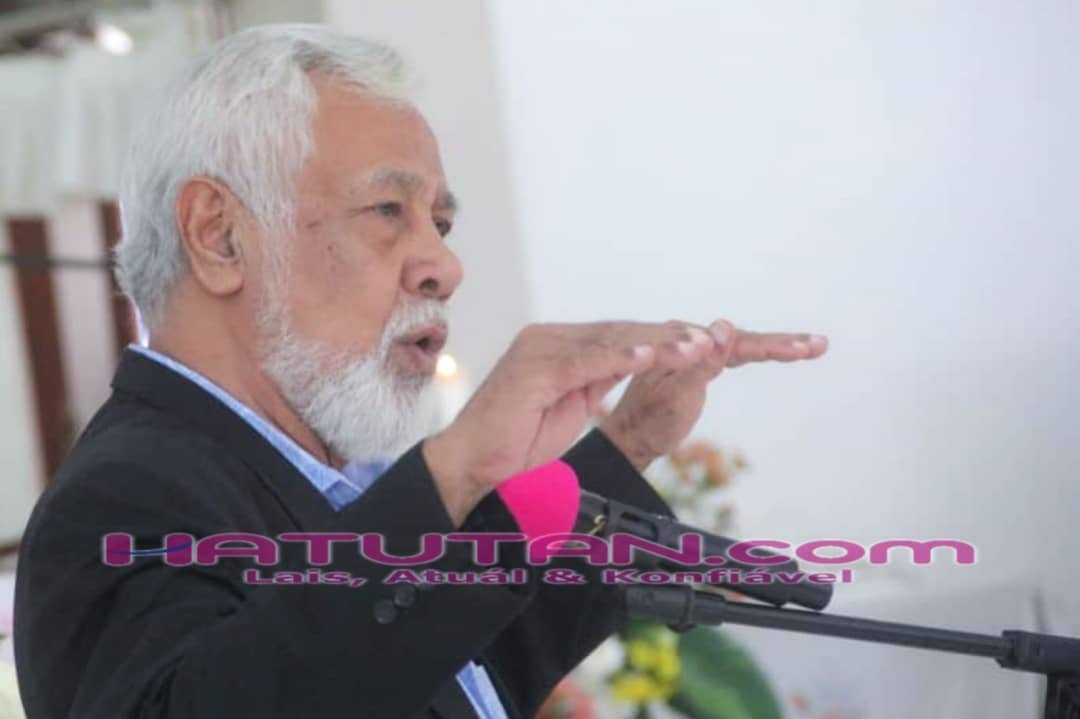 Hatutan.com, (28 Setembru 2023), Díli—IX Governu Konstitusionál liu hosi Reuniaun Konsellu Ministru (KM) iha Kuarta (27/09) aprova rezolusaun ida atu Ministériu Obras Públika ho Ministériu Administrasaun Estatál (MAE) bolu administradór sira, Xefe Suku, Xefe Aldeia sira hodi ko'alia atu bele fó atensaun másimu ba komunidade sira labele tesi kanu no hasai bee arbiru hosi kanu sira.
Governu Estabelese Koordenasaun Servisu Interministeriál Solusiona Jestaun no Fornesimentu Bee-Moos bá Povu
Hatutan.com, (26 Setembru 2023), Díli- IX Governu Konstitusionál iha komprimisu boot atu hadia jestaun no konstrusaun bá sistema fornesimentu bee-moos hodi garante asesibilidade bá povu, inklui mós ba balada sira hotu.