Maromak Mak Hun no Rohan ba Ema nia Moris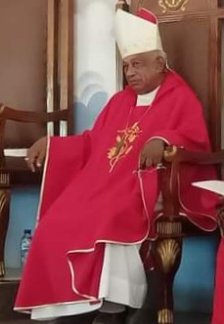 Hatutan.com, (04 Novembru 2021), Baucau—"Ema nia moris forma hosi liafuan save maka mai, ba no hahí. Liafuan  tolu ne'e mak hatudu ema nia hun no rohan. Bainhira ema ida rekoñese nia hun no rohan, ne'e hatudu ema soin duni atu hahí ida ne'ebé sai na'in ba moris ne'e mak Maromak rasik."
Prezidente Konferénsia Episkopál Timorense (CET) no Bispu Dioseze  Maliana, Dom Norberto do Amaral, hateten lia fuan ne'e iha omilia misa funeral, ba mate-isin Dom Basílio do Nascimento, Bispu Dioseze Baukau, iha Igreja Katedrál Santo António  Baukau, (04/11/21).
Notísia iha Relasaun: Dom Basílio Husik-iis Tanba Moras Fuan iha Suai
Hanesan ema fiar na'in, presija tau iha neon katak, Maromak hakarak nia povu fó louvór ba Nia iha iha buat hotu-hotu ne'ebé hala'o iha moris lor-loron hodi hanoin katak, Maromak mak hun no rohan hosi moris ne'e.
Em prinsípiu, Maromak haki'ak ema atu ema moris iha felisidade no ksolok. Maromak lakohi ema susar, maibé tanba ema nia frakeza, hodi la halo tuir Maromak Nia hakarak, ikus mai ema monu ba dezastre no moris iha susar nia ukun.
"Maromak liu hosi nia laran luak no domin, la husik nia povu moris iha konfuzaun nia laran. Maromak lolo-liman ba povu, liu hosi nia oan Jesus Kristu hodi dada ema sai hosi diabu nia ukun," Dom Norberto haktuir.
Ohin, sarani hotu-hotu iha Timor hanoin momentu Dom Basílio do Nascimento husik hela Igreja Timor ho nia sarani sira hodi fila hikas ba hasoru moris ne'e nia na'in.
Hanesan sarani labele husik selebrasaun ne'e liu leet de'it, maibé hakás-an atu lori ho fiar hodi hafoun moris atu hakat hosi mundu ida-ne'e, hodi fila ho ksolok ba hamutuk ho Maromak.
"Dom Basílio nia kualidade kmanek hirak-ne'e la'o liu daudaun bainhira nakukun metan mai falun no haketak nia hosi ita hotu nia leet. Ita nia kualidade kmanek hirak-ne'e ami sura la hotu no neon na'in ida kmanek ne'e susar tebes atu hanesan ho ema seluk. Ita boot úniku no sei la hetan tán ida hanesan ita boot. Ba sira ne'ebé mai no mós la mai, ami hodi beran ho laran tomak sadiak ba ita futar isin mate. Obrigadu wa'in naresin ba buat kmanek sira ne'ebé ita boot kuda ona iha ami hotu. Ba sala sira ne'ebé ami halo hasoru ita boot ho liafuan no hahalok, ami husu atu husi Lalehan ita harohan nafatin ba rai Timor, ba povu Timor be laran susar tán ita husik hela," Dom Norberto, subliña.
Ikus liu, Prezidente CET, Dom Norberto do Amaral laiha tán liafuan seluk atu fahe iha momentu sira hanesan ne'e, no lori de'it Uma Kreda nia naran hato'o agradesimentu wa'in ba Estadu, Governu no ba entidade sivíl no militár ba kontribuisaun no dedikasaun durante loron hira ikus bainhira Dom Basílio husik hela mundu ne'e.
Agradese mós ba Estadu ne'ebé fó rekoñesimentu ba kontribuisaun Dom Basilio nian ba rai ne'e hodi kondekora ho Ordem de Timor Leste.
"Hodi Igreja Timor-Leste agradese ba Estadu nia rekoñesimentu ba méritu sira ne'ebé Dom Basilio halo ba independénsia Timor-Leste," Prezidente CET agradese.
Dom Norbeto husu ba kleru no fieis sira iha dioseze Baucau atu servisu hamutuk nafatin hodi lori dioseze ba enfrenta situasaun hotu ne'ebé iha, to'o Papa nomeia hikas Bispu foun ida hodi ukun dioseze ne'e.
Primeiru Ministru (PM), Taur Matan Ruak, konsidera Dom Basílio hanesan defensór ba prinsípiu Igreja Katólika ida ne'ebé ekuménika, defensór liberdade governativa ba pás no igualidade sosiál, defensór ba toleránsia no umanizmu kristaun.
Dom Basílio sempre hatudu korajen bainhira simu knaar no responsabilidade atu servi Kreda Timor, hodi denunsia hahalok aat kontra umanidade no a favór ba direitu umanu povu nian ba auto determinasaun.
"Iha períudu difísil iha ita nia istória, Dom Basílio assume mós papél importante ida iha frente klandestina hodi promove ligasaun entre frente armada ho komunidade internasionál, iha momentu sira ne'ebé presija hodi koordena esforsu no mobiliza apoiu internasionál atu a favór ba povu Timor nia libertasaun nasionál," Xefe Governu hateten.
Esforsu hotu ne'ebé Dom Basílio halo atu defende valores no sivilizasaun Kristaun ne'ebé dignifika ema no direitu ba Liberdade.
Esforsu hirak-ne'e justifika duni hodi simu graun Cruz de Ordem da liberdade hosi Repúblika Portugal iha loron 07 Dezembru 1999.
Dom Basílio fó atensaun ba dezenvolvimentu parokia no komunidade nian hodi partisipa ativamente hodi hari Estadu direitu ida tolerente, pasifikamente  no demokrátiku.
Ba buat sira ne'e hotu-hotu mak sai motivu no razaun atu hatudu gratidaun no rekoñesimentu hodi valoriza faze oioin hosi vida eroíka no autorista saudozu Bispu hanesan Pastór da Igreja, líder relijioza, membru rezisténsia no símblu nasionál ba liberdade povu ida nian.
Iha biban ne'e, ArseBispu Arkedioseze Metropolitana Dili, Dom Virgílio do Carmo da Silva, SDB, konsidera maktoban Bispu Dom Basílio do Nascimento riku tebtebes ho kualidade oioin iha parte umana, espirituál no kulturál.
Liu tiha dékade rua, Dom Basílio do Nascimento fó nia-an atu servi Kreda Timor espesialmente iha Dioseze Baucau ho matenek no karan domin ne'ebé iha.
"Dékade rua ho balun ita gasta ita nia saúde, ita nia enerjia, forsa, matenek no pasiénsia iha Dioseze ida ne'e no ba konferénsia episkopál atu fini fiar nian iha Kreda Timor buras ba beibeik. Hanesan Baucau oan ami husu deskulpa ba ami nia hahalok, jestu no liafuan inklui saida de'it mak ami halo, husu atu iha momentu sira hanesan ne'e husik hela bensaun ba ami hotu," Arsebispu, husu perdaun.
Biografia
Liu hosi bula ad perpetuam rei memorian, loron 30 fulan-Novembru 1997, Vaticano foti Baucau sai dioseze foun. Iha loron ne'e kedan Papa João Paulo II, hili padre Basilio do Nascimento sai Bispu dahuluk.
Dom Basílio moris iha Suai, iha 14 Juñu 1950. Oan hosi katekista Vitór de Nascimento no Teresa Mesquita.
Hala'o ninia estudu ensinu báziku, primeira to'o segunda klase iha Zumalai, terseira no kuarta klase iha Maliana.
Iha 1963 to'o 1969 tama iha semináriu menór Nossa Senhora de Fátima, Dare. Iha tinan 1969, Basílio do Nascimento, ba Évora, Portugal, hodi kontinua estudu.
Períodu semináriu ne'e hahú mós eventu istóriku boot iha Uma Kreda laran, konsíliu Vaticano II. Maibé, ho distánsia ne'ebé iha entre Timor, Portugal no Vaticano, kuaze laiha reperkusaun ne'ebé maka'as ba moris loro-loron nian.
Buat ne'ebé futuru Bispu Baucau nia hanoin hetan mak dalaruma Dom Jaime Garcia Goulart sai ba li'ur to'o fulan 6-7 atu tuir reuniaun boot iha Vaticano.
Iha semináriu laran nia hahú hasoru mudansa balun hanesan – halakon formatura atu ba han, ba reza, ba eskola no ba toba. Iha liturjia, ezemplu, baibain na'I lulik halo misa fila kotuk ba sarani no reza mesak ninian, sarani sira tuur iha kotuk reza mesak sira-nia tersu. Agora altár mós halo foun ona no misa mós hetan partisipasaun hosi sarani sira.
Períodu estudante iha Portugal (1969 – 1977), nia hasoru eventu istóriku seluk hanesan revolusaun ai-funan, iha Portugal, loron 25 fulan-Abril 1974, no prosesu deskolonizasaun iha Timor tuir mai kedan.
Dom Basílio dehan "tempu ne'e ami hotu mesak foinsa'e, tebe rai atu hetan independénsia maibé depois la hatene tán atu halo saída".
Nu'udár timoroan ne'ebé moris iha ne'ebá sira hotu envolve iha diskusaun barak no manifestasaun oi-oin iha Lisboa.
Bainhira prosesu luta ba libertasaun nian hahú ona mak hafoin ema balun sente katak diskursu la hanesan ho realidade.
Sá tán bainhira invazaun hosi Indonézia, 07 Dezembru 1975, pratikamente entusiazmu ba revolusaun independentista sira hahú malirin neineik hanesan invernu iha Europa.
Hosi família rasik mós nia lakon kontatu, "Ha'u hanoin de'it se Maromak hakarak ami sei hasoru malu, se la'e mós ida ne'e hanesan konsekuénsia hosi funu!"
Iha loron 26 fulan-Juñu 1977, padre Basílio do Nascimento simu ordenasaun saserdotál iha Évora, hosi liman moruk Arsebispu Dom David de Sousa.
Simu tiha liman moruk nu'udár na'iluluk, amu Basílio koko atu fila hikas mai Timor. Maibé, destinu kala seidauk kona. Nia hanoin de'it atu hala'o Maromak nia vontade, iha fatin ne'ebé de'it maski la ba Timor.
Iha períodu 1977 – 1980, nia ba hala'o estudu kona-ba pastorál iha París, kaer mós knaar nu'udár kapelaun ba emigrante iha misaun portugeza, Parokia de Saint Jacque Haute.
Iha París padre Basílio koko nafatin iha embaisada Indonézia nian atu hetan lisensa hodi fila ba Timor. Maibé, Governu indonéziu la hatan.
Fila mai Portugal iha tinan 1982 to'o tinan 1983, nia hala'o knaar nu'udár pároku ida arkidioseze Évora nian.
Iha Portugal padre Basílio tenta nafatin atu fila mai Timor, ne'e duni nia buka embaisada Indonézia nian iha Madríd (tan iha Lisboa, Indonézia la loke nia embaisada).
Hosi tinan 1982 to'o tinan 1994, sai diretór espirituál iha semináriu maior Évora, hanorin mós iha Instituto Superiór do Filozofia e de Teologia Évora.
Iha tinan 1993, iha loron ida nia simu telefone hosi embaisada Indonézia nian iha Vaticano atu fila ba Timor.
Surpreza boot, tan dala barak ona nia tenta liu-hosi embaisada Indonézia nian iha Madríd maibé la hetan rezultadu.
Dala ida ne'e, nia foti kedan premeira oportunidade hodi prepara-an atu fila ba Timor. To'o iha Jakarta iha loron 19 fulan-Outubru 1994, Mgr. Pietro Sambi (Núnsiu Apostóliku) mak simu iha aeroportu Cengkareng.
Surpreza seluk tan núnsiu ida mak simu padre ida hosi viajen ida-ne'e katak buat ida boot duni. Durante loron 2 iha Jakarta núnsiu halo radiografia ida kona-ba na'ilulik sira iha Timor nian – kompreensivu no kompletu.
Ikus mai núnsiu dehan, "se Igreja ba dere o-nia odamatan, loke kedas!" Padre Basílio hahú hanoin barak kona-bá liafuan hirak ne'e, maibé mós hatene ona katak prosesu atu lori fali nia mai Timor ne'e planeadu ona hosi Vaticano.
To'o iha Timor iha loron 22 fulan-Outubru 1994, impresaun imediatu katak Timor mesak povu ida joven no iha esperansa ba futuru.
Molok atu tama mai Timor, nia alin rasik Filomeno do Nascimento, haruka ona karta hodi dehan, "Mano fila karik lalika lori hanoin oi-oin maibé hamamuk tiha ulun laran".
Amo Basílio haree ida-ne'e hanesan konsellu ida atu molok tama Timor nia halo "kenosis" (esvaziou-se; Flp 2,7) – hamamuk an hosi prekonseitu no prejuizu hodi abandona nia-an nia providensia Maromak nian. Basa, bainhira tama iha fatin foun ida mak ema lori hanoin ka hakarak ka mehi hosi fatin seluk, nia sei halo naksobu mak barak.
Halo tiha férias loron lubuk ida, padre Basilio hetan nomeasaun atu sai "Padre Kooperadór," iha Ainaro (1994 – 1995).
Iha tinan 1995 hetan nomeasaun hosi Dom Filipe Ximenes Belo SDB atu sai pároku iha Ermera.
Iha loron 30 fulan-Novembru 1996, João Paulo II foti ona dioseze foun Baucau hodi haketak-an hosi dioseze Dili, no hili nia sai bispu.
Ninia reasaun kona-bá desizaun Vaticano nian: fuan tuku maka'as no oin nakukun uitoan. Tan, zona dioseze Baucau mesak "muturabu" de'it. Maibé, ho obediénsia Padre Basílio do Nascimento ba duni Roma. Hosi biban seluk Dom Carlos Filipe hetan Prémiu Nobel da Paz. Povu hotu entusiazmu ba nia. Tan ne'e, harii dioseze foun bele mós hanesan "intrigue" foun iha kampu polítiku nian.
Los duni, jornál lubuk ida iha Indonézia dehan katak eleisaun ba Bispu Basilio hanesan, "menggembosi kekuasan uskup Belo"! Governu Indonézia la agrada ho prémiu Nobel da Paz, satán "kontrovérsia polítika" ne'ebé Dom Carlos Filipe halo iha Timor Timur.
Maibé, ba bispu Belo, prezensa bispu Basílio nian ne'e folin boot liután, sira na'in-rua bele fahe naha ba malu no lori todan lisuk.
Haree ba prosesu rápidu fila hikas mai Timor iha tinan 1994, Dom Basílio fiar katak, Dom Carlos Filipe mós "joga" iha laran atu prepara nia sai Bispu foun. Karik!
Iha loron 6 fulan-Janeiru 1997, simu ordenasaun episkopál hosi Papa João Paulo II rasik iha Basílicas de São Pedro, Vaticano ho títulu Settimunicia.
Lema mak Cristianos inter vos, episcopos propter vos (nu'udar sarani iha imi leet, nu'udar bispu ba imi). Iha loron 19 fulan-Marsu 1997, Dom Basílio tama iha Baucau no simu pose. Festa ne'e solene tebes no anima nia fuan atu hahú buat ruma iha fatin foun ne'e.
Loron tuir mai, 20 Marsu 1997, Dom Basílio haree hanesan "baptismo do fogo". Mosu konflitu ne'ebé mai hosi Bukoli bainhira joven pro integrasaun no pro independénsia konfronta malu. Hasoru ema lubun ne'ebé manas daudaun, Dom Basílio ba negósia atu bele tuur hamutuk hodi haree ho matan naroman no ulun malirin.
Nia dehan, kritéria lideransa ida mak ne'e, mantein kalma iha situasaun perigozu nia laran. Labele pániku! Ida-ne'e marka kedas ona ninia dioseze Baucau nu'udar fatin ne'ebé muturabu (ulun to'os) liu, maibé mós mututaba (ulun mamar) liu.
Iha loron hirak tuir mai, Dom Basílio mós loke kontatu ho gerilleiru sira, liuliu ho David Alex Daitula no komandante sira seluk. Hosi biban seluk, nia mós labele taka janela no odamatan ba forsa Indonézia sira nian. Hasoru situasaun krítiku barak Dom Basílio hanoin atu "labele ba kasa malae ho tua sin maibé wani ween".
Dioseze Baucau mak hanesan to'os ka katar ida karik, Dom Basílio hahú hamoos fatuk no ai-tarak, fila-rai, taka kabubu, halo lutu, dada bee, hisik kosar ween no kolen ho susar tomak. Tan ne'e, Dom Basílio buka no hili ema sira ne'ebé hatene "kampu" foun ne'e, hanesan padre Mário do Carmo Lemos Belo (vigáriu jerál; pároku Ossu), la'ós de'it tan nia Baucau oan, maibé mós hatene hotu "ai-laran" no "soko laran" sira; padre Mateus Lopes da Cruz (chanceler; pároku Ainaro), ne'ebé iha kontatu barak ho elite polítiku tempu ne'ebá; padre Antônio Gonçalves (ekonomu; pároku Viqueque): kaer pároku iha fatin "manas", iha rezisténsia nian; padre Rui Gomes SDB (sekretáriu; pároku Baucau) domina oinsá mak be suli tuir fatuk leet no kuak laran sira. Ho sira-nia esperensia no koñesementu ba situasaun Timor-Leste, liuliu zona dioseze Baucau nian, Dom Basílio sente katak nia bele la'o ba oin.
Hahú kedas tinan 1997 ba oin, tinan- tinan dioseze Baucau hetan nafatin ordenasaun ba na'iluluk foun sira hosi salezianu no mós diosezana. Dom Basílio dehan, "hanesan perusahan (pengusaha) karik, ha'u hahú sura ona ha'u-nia rendimentu".
Haree ba kondisaun ne'ebé favorávél nafatin, Dom Basílio halo planu ba pastorál orgánika, hanesan formasaun espirituál, umanu no sosiál. Knaar bispu nian la'ós buat foun ida igreja laran. Iha fatin ne'ebé de'it bispu hotu-hotu ninia knaar mak ne'e ona "governar, ensinar no santificar".
Simbolikamente, fulan-Setembru 1998, sira hili Dare nu'udar fatin atu halo "sorumutu ba dame neon ida de'it". Halo nusá na mós, sira hotu ne'ebé kaer knaar polítika hariis partidu ASDT, FRETELIN, UDT no APODETI ho KOTA hetan masin-ween hosi semináriu Nossa Senhora de Fátima, Dare – Francisco Xavier do Amaral, Francisco Xavier Lopes da Cruz, Nicolao dos Reis Lobato, Rogério T. Lobato, Kay Rala Xanana Gusmão, atu temi naran famozu balun – hamutuk ho Dom Carlos no Dom Basílio rasik. Líder seluk ne'ebé la'ós hosi semináriu mak Ramos Horta, Mario Carasscalão ho maun-alin sira, Mari Alkatiri no seluk tan. Sorumutu ne'e tutan ba Dare II, ne'ebé hala'o iha otél Sheraton Jakarta, fulan-Juñu 1999.
Loron 30 fulan-Agostu 1999, ONU konduz referendu ida iha Timor atu hili "Daerah Otonomi Khusus" (DOK) ka rejeita. Rezultadu iha loron 4 fulan-Setembru 1999 hatudu katak maioria povu Timor opta atu hili dalan seluk, la'ós DOK! Maibé ninia konsekuénsia mós devastante. Indonézia nia militár suporta melisianu timoroan sira hodi sunu, sobu no oho nia maun alin rasik. Timor tomak sofre, la'ós de'it iha aspetu materiál (ekonomia), maibé liuliu relasaun sosiál no umanu naklees hotu kedas – hela de'it ódiu no vingansa barak. Uma kain, uma lisan / uma knua no uma kreda namtate arbiru de'it ona.
Dezde ONU fó sai rezultadu referendu, Baucau mós mamuk tiha kedas. Maski nune'e, hosi fatin hotu, só distritu Baucau de'it mak la naksobu. Pratikamente, forsa Indonézia nian sunu de'it "Vila Nova" (parte planaltu ne'ebé hahú harii iha tinan 1984 na leten). Maibé, " Vila Antiga" nafatin hamriik metin. Iha momentu ne'ebá padre Basílio hamaluk hosi padre Martinho G. da Silva Gusmão (diretór komisaun juventude) no frater Jacinto F. Xavier (diretór CARITAS Baucau) halo negosiasaun no diálogu beibeik ho kodim, polres no Dan Sektor A atu labele sunu no oho ema iha ema Baucau laran. Dioseze Baucau hasai osan barak hodi fó ba frater Jacinto F. Xavier atu "sosa" netik militár no milisi Indonézia sira hodi la sunu PLN, Dolog no ospitál.
Hahú tinan 2000, Dom Basílio retrasa fali planu ba infra-estrutura, independénsia iha formasaun kuadrus no organizasaun pastorál. Iha area formasaun kuadrus nian, Dom Basílio hanoin hikas liafuan Dom Jaime Garcia Goulart nian be dehan, "ha'u bele sakrifika parókia sira, maibé formasaun ba na'iluluk sira nafatin prioridade". Hosi ne'e mak hahu tinan 2001, dioseze Baucau gradualmente haruka na'iluluk sira na estuda iha Roma, Portugal no Macau.
Sá tan, na'iluluk sira mesak otas sei nurak, nune'e sei disponível liu atu tuir formasaun permanente iha rai liur atu kompleta.
Iha tinan 2000 ne'e, hamutuk ho Dom Carlos Filipe Ximenes SDB, sira harii semináriu maior de S. Pedro & semináriu maior de S. Paulo iha Dili. Ne'e hakaat boot ida iha igreja katólika iha Timor-Leste.
Tuir mai iha tinan 2013, hamutuk ho Dom Alberto Ricardo da Silva (Díli) no Dom Norberto Amaral (Maliana) sira harii Instituto Superior de Filosofia e de Teologia (ISFT) Dom Jaime Garcia Goulart. Fatin rua ne'e sai ona monumentu importante iha formasaun kuadrus nian.
Iha area organizasaun pastorál, iha tinan 1997 dioseze Baucau hahú hoje parókia 9 de'it: Baucau, Venilale, Laga, Ossu, Viqueque, Uatulari, Lospalos, Manatutu, no Soibada. Neineik, hahú tinan 2000 na leten dioseze Baucau bele loke nafatin ninia liras. Iha zona Baucau Dom Basílio loke tan parókia foun: Laga, Quelicai, Vemasse no Vila Nova, no foti Baguia na kuaze parókia ida. Iha zona Lospalos: loke tan parókia Ilomar no Lautem; foti Luro na kuaze parókia no prepara mós Tutuala. Iha zona Manatutu: loke parókia Laleia, Laclubar no Laclo; foti Natarbora hoje Barique na kuaze parókia. Iha Viqueque: loke parókia foun no Lacluta no foti Uatucarabau ba kuaze párokia.
Hahú 2012, Dom Basílio mós asume knaar nu'udár Presidente da Conferência Episcopal ba bispu Timor nian. Mehi barak no hanoin barak atu lori igreja katólika ba oin.
Dom Basilio husik mundu iha 30 Outubru 2021, hafoin sofre moras fuan iha Suai. (Biografia ne'e hakarek hosi Padre Martinho Gusmão no publika iha Revista FINI 2015).
Jornalista: Vito Salvadór

Projetu Reabilitasaun Estrada Laga-Baguia Sei Gasta Millaun $21-resin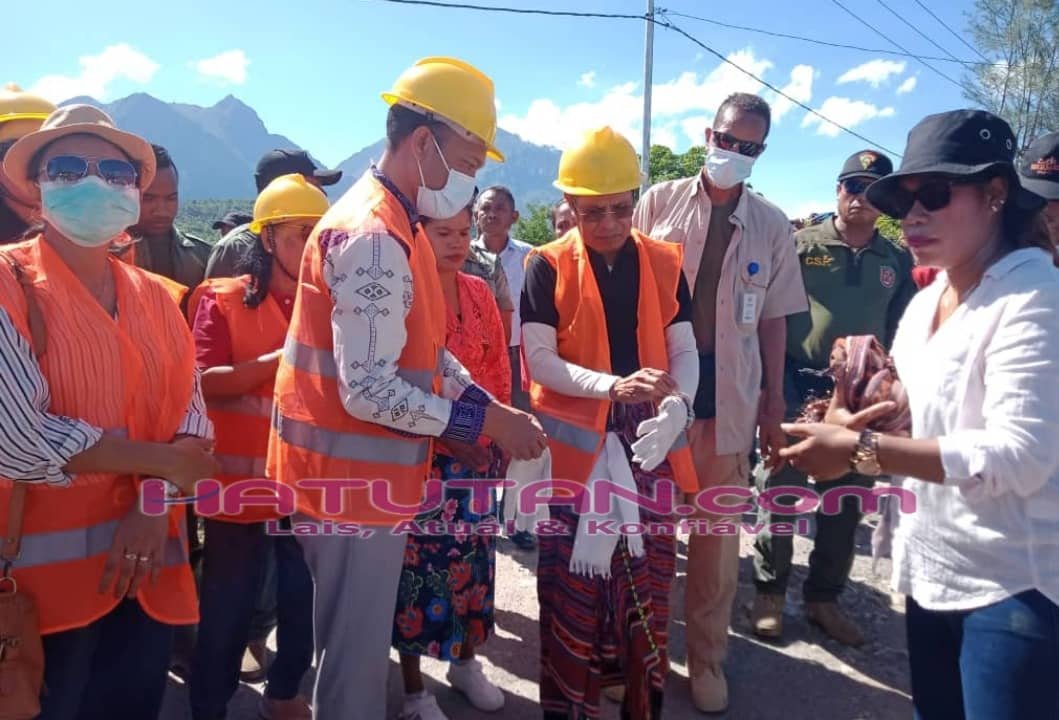 Hatutan.com, (10 Dezembru 2022), Laga—Primeiru Ministru (PM), Taur Matan Ruak ho membru Governu balun inklui membru Parlamentu Nasionál (PN) ofisialmente lansa projetu reahalibiltasaun estrada ligasaun hosi Postu Administrativu Laga Villa bá Baguia, iha Sesta (09/12/2022).
TMR Promete Projetu Boot Tolu bá Povu Quelicai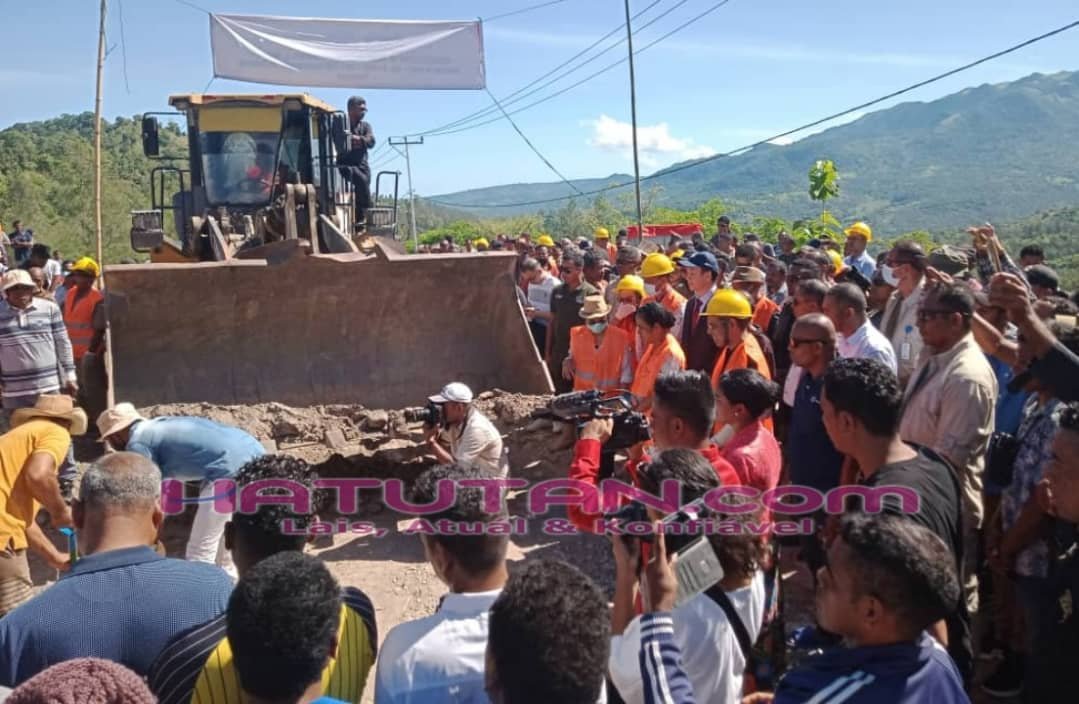 Hatutan.com, (09 Dezembru 2022), Baucau-Primeiru-Ministru (PM), Taur Matan Ruak,  hateten, iha nia mandatu iha VIII Governu Konstitusionál ne'e sei halo tán projetu boot tolu (3) bá populasaun sira iha Postu Administrativu Quelicai, Munisípiu Baucau.
Governu Lansa Projetu Reabilitasaun Estrada Quelicai-Ossú ho Kustu $16.547,661,76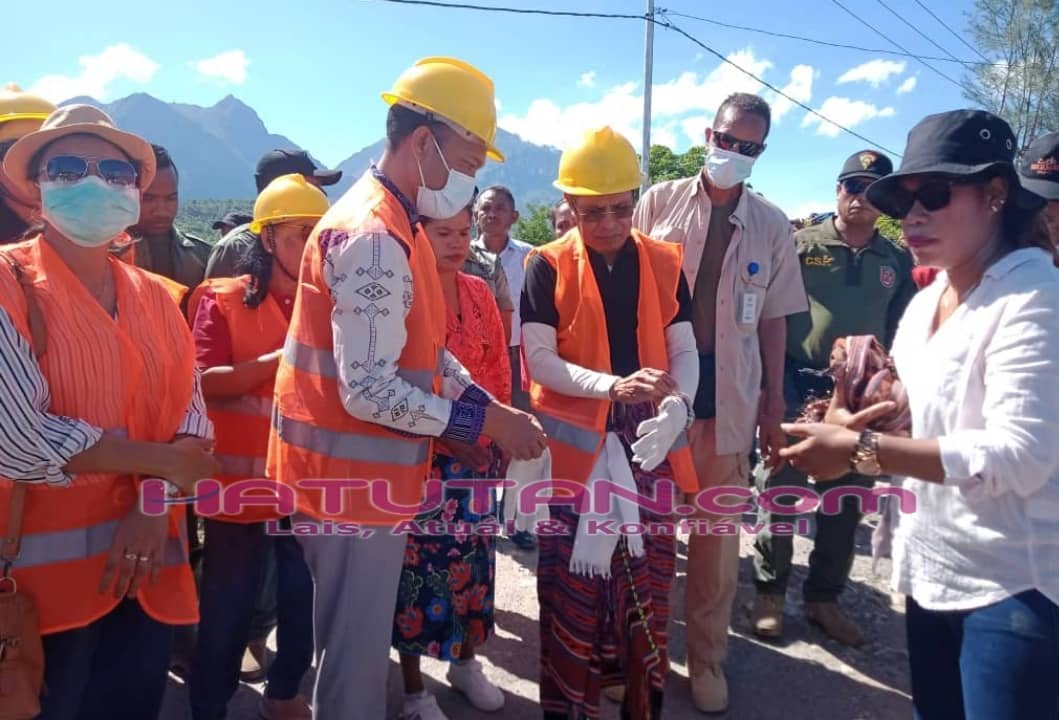 Hatutan.com, (09 Dezembru 2022), Baucau-Primeiru-Ministru (PM), Taur Matan Ruak, akompaña hosi membru Governu balun, membru Parlamentu Nasionál balun, Prezidente Autoridade Munisípiu Baucau,  Olívio "Bou Lesa" Freitas, ho autoridade komunitáriu sira, Sesta (09/12/2022), iha Postu Administrativu Quilicai, Munisípiu Baucau, ofisiálmente lansa projetu reabilitasaun estrada hosi Aldeia Uaiaca, Suku Abafala, Postu Administrativu Quelicai bá Suku Nahareka, Postu Administrativu Ossu, Munisípiu Viqueque.